Guest Farm Accommodation near Calitzdorp and Oudtshoorn
Redstone Hills guestfarm near Calitzdorp is nestled within what must be one of the most spectacular geological landscapes in the whole South Africa. The striking reddish-hued koppies which surrounds the farm are constructed from iron-rich conglomerates which were deposited by turbulent rivers in the Cretaceous Period, some 130 millions years ago. In a sense these blood-red rocks reflect the painful and energetic birth of the new African continent. Come experience genuine Karoo hospitality, spectacular view and breathtaking tranquility at our guest farm.
A circular route combines our farm with other major tourist attractions in the area such as the Cango Wildlife Farm, Ostrich Show Farms, Calitzdorp hot springs, the Swartberg Pass and Meirings Poort.
Kindly note that we now offer battery support to cottages during load shedding.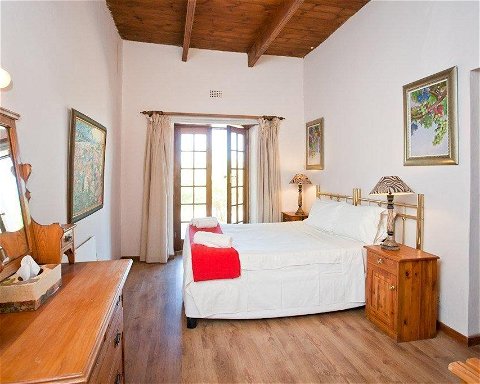 Our Cottages
Our cottages are 120 m apart with spectacular views of the river and the red stone hills. In our cottages are fully equipped kitchens, television with satellite and fireplaces.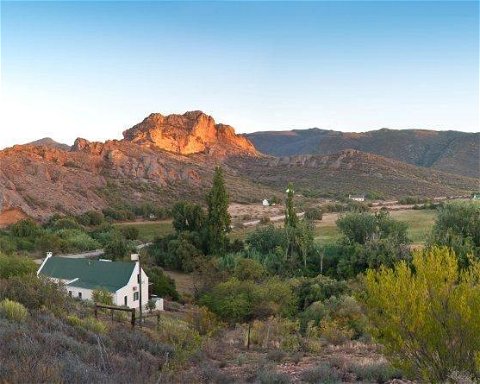 Our Location
Our farm is situated between Oudtshoorn and Calitzdorp, 6km on the Kruisrivier turn-off, near the foot of the Swartberg mountain, en-route the beautiful scenic drive to the Cango Caves.
Guest Reviews
The owner was very friendly, the cottage was comfortable and warm, the surroundings were quiet, our dog was welcomed. We had one of the meals they offer which was delicious and nicely set out on our kitchen.We will definitely return and highly recommend it.

Phaedra B

Metz, France

We had a fabulous stay at Red Stone Hills with the Potgieter family. The rustic cottage is nicely furnished and thoughtfully stocked with everything a guest needs. We enjoyed the peace and quiet and did short hikes during the day and building long fires at night. The surrounding scenery is amazing. The short hike and climb to 'Vensterkop' is well worth the effort to experience the awesome vistas. The... Read this review

Maristha

Port Elizabeth, South Africa

We were driving from Cape Town to Limpopo and this was our first nights stop over. We arrived and were shown to a lovely two bedroom cottage with kitchen and two bathrooms!Our order for a BBQ was delivered, the fire set up. Next day we crossed the Swartberg Pass.

JulianGS

Sandy, Beds

We stayed in the most basic cottage which was still well equipped and better than we expected. Lovely views and the owners are very friendly, taking my son out on a morning visit to feed the ostriches on their working farm. Order their delicious home made braai meals all brought to your door and the fire set for you to cook. Lovely stay.

Philip Spicer

Ethiopia